Veri Cable was specialized in control cables, cables accessories. Control cables such as instrument cable, armored control cable, flexible control cable, etc. We manufactured high-quality PVC insulated and PVC sheathed control cables suitable for industrial and mining enterprises, energy and transportation departments, control and protection circuits with a rated AC voltage below 450v/750v. Veri Cable is a worldwide supplier of cable products. Our control cables are manufactured as GB, IEC, BS, ASTM, ISO900, ISO14000, ISO14001, ISO18000, BS, CE, IEC, NFC, ASTM, DIN certification.
Control cables have the characteristics of moisture-proof, anti-corrosion and damage-proof, and can be laid in tunnels or cable trenches. The power control instrumentation cables are used to transmit and distribute high-power electrical energy in the main line of the power system, and the control cable directly transmits the electrical energy from the distribution point of the power system to the power connection lines of various electrical equipment and appliances.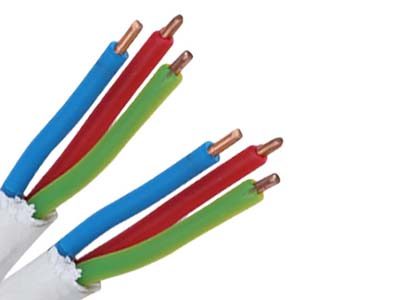 Veri Cable as a professional instrumentation cable group has many advantages. With more than thirty years of experience, our company has accumulated rich experience in producing the best instrument cables. You can also buy shielded meter cables cheaply. And we assure you of the reliability and safety of our products and services. Please feel free to contact us if you have any questions.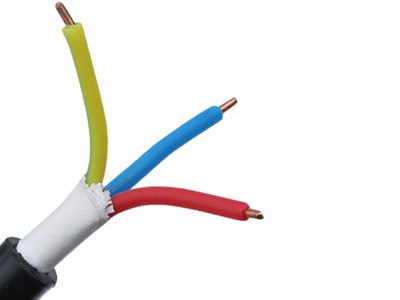 Multipart instrument wire is a kind of common cable includes 1 pair, 2 pair, 3 pair, etc. Instrumentation cables for process control and instrumentation, operation and interconnection of control circuits for protection and signaling devices, and general use in manufacturing, industrial and commercial power distribution systems.
The unarmored are generally used for indoor installations and are suitable for wet and humid areas.
Typically used in industrial process manufacturing plants for communications, data, and voice transmission of signals and services, and also for the interconnection of electrical equipment and instruments, usually in the oil industry.
STANDARDS&REFERENCES: IEC 60502, BS 5308, GB 9330
Conductor: copper
Insulation: PVC/XLPE/ PE
Sheath: PVC Sheath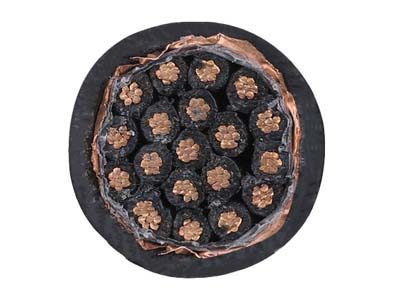 Veri Cable is a leading-armored control cable manufacturer and supplier.
We offer a wide range of instrumentation cables suitable for use between variable frequency power supplies and variable frequency motors.
This galvanized steel wire armor provides excellent mechanical properties.
Apart from armored control cables, you can buy a lot of other cables. Except for this, you can feel free absolutely email us the cable price.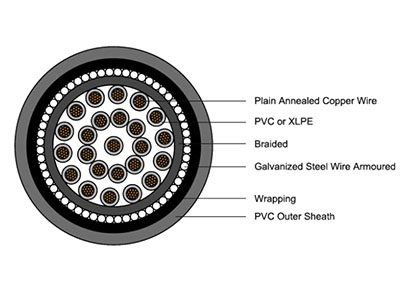 The armored instrumentation control cable has moisture, corrosion, and anti-injury characteristics that can be laid in the tunnel or cable trench.
In addition to enhancing mechanical protection such as tensile strength and compressive strength and prolonging service life, the purpose of adding an armor layer to the cable also has a certain resistance to an external force.
The bending radius of the armor layer should be large, and the armor layer can be grounded to protect the cable. The armored cables are used in vertical shafts or steeply inclined roadways.
STANDARDS&REFERENCES:IEC 60502, BS 5308, GB 9330
Conductor: Plain annealed copper wire
Insulation: PVC/XLPE
Armored: Galvanized Steel Wire Armored
Sheath: PVC Sheath
Transportation with Professional Service
ZMS Veri cable company supplies high quality instrument cables and all kinds of cables with various constructions and voltage ratings. We also have many types of control cables. What's more, we support customized to your requirements. High-quality material at a low price for you. 
You can provide us with the following information: cable voltage, conductor material, insulation and sheath material, shield type, armor type, etc. Or you can provide us with cable installation environment, application requirements, etc. We will serve you wholeheartedly. 
ZMS Cable Supplier has a number of quality certifications: ISO 9000, ISO 9001, ISO14000, ISO14001, ISO18000, CE, IEC, BS, NFC, ASTM, DIN, etc. We can also customize the best instrument cables to meet the specific needs of our customers. Please feel free to contact us.
Precautions for Installation and Wiring of Control Cables:
—Under the eaves. Standard cables can be used only if the cable is not exposed to direct sunlight or extreme heat, and conduit is recommended. Do not use cables without UV protection in direct sunlight.
—On the outer wall. Avoid direct sunlight on the wall and man-made damage. Heating cables are exposed to high temperatures in metal conduit or trunking, and many polymeric materials experience reduced service life at these temperatures.
—In pipes (plastic or metal). If in pipes, pay attention to the damage to plastic pipes and the heat conduction of metal pipes. Once mechanical damage occurs, fiber optic cables are expensive to repair, requiring at least two terminations at each discontinuity point.
—Suspended applications/overhead cables. Consider cable sag and stress. The cable is exposed to direct sunlight or not.
—Directly laying in the underground cable trench, this environment is the smallest control range. The installation of the cable trench should be checked regularly for dryness or dampness. If the shield of the control cable needs to be grounded, the appropriate standards must be followed.