What is a low voltage power cable? Low voltage cables, as the name suggests, are used to transmit low voltage signals, as opposed to traditional 110/220V AC cables. Low-voltage cables are usually made of copper or aluminum, with insulation including PVC, rubber, or fiberglass.
Veri low voltage cables are suitable for transmission lines and distribution with a voltage of 0.6/1 kv. And we have various voltage cables with different voltage levels: high voltage cable, medium voltage cable.
Types of Low Voltage Cables
0.6/1 kV Cu(AL)/XLPE/SWA(STA)/PVC Power Cable
Low-voltage cables refer to applications that require less infrastructure, including telephones, security wires, fire alarms, walkie-talkies, and the Internet. Also, the types of low-voltage cables can divide into AC voltage and DC voltage. Because as a professional LV cable manufacturer, we can meet all your needs.
Conductor: Copper/ Aluminum/Aluminum alloy
Insulation: PVC/XLPE
STANDARDS&REFERENCES: IEC 61089/BS 7870/DIN 48201/ASTM B399/BS EN50183/NFC33-209
The low voltage power cable of ZMS cable has good electrical and mechanical properties, the best chemical resistance, environmental stress, and flame resistance. Moreover, its structure is simple, easy to use, and saves project costs. It is suitable for laying indoor, tunnel, canal, and underground laying areas.
0.6/1kV ABC —Aerial Bundled Cable
This is a kind of PVC, HEPE, and XLPE insulated aerial cable of copper core, aluminum core, or aluminum alloy core. And they are suitable for overhead power lines of AC-rated voltage 0.6/1KV and below.
Conductor: copper/aluminum/aluminum alloy
Insulation: PVC/XLPE
STANDARDS&REFERENCES: IEC 61089/BS 7870/DIN 48201/ASTM B399/BS EN50183/ NFC33-209
It is widely used in power transmission lines and electricity distribution lines. Because they have such good characteristics as simple structure and convenient maintenance. And low-cost large transmission capacity. They are also suitable for laying across rivers valleys and geographical places.
How to Bury Low Voltage Cables?
For outdoor lighting, you can use a 2-conductor low-voltage outdoor cable. According to the characteristics of the low-voltage cable, it buries in the ground.
So you should choose the correct equipment, such as shielded low-voltage cables. Then you can connect all the cables and bury them perfectly in the ground. Of course, the best way is to dig 6 inches deep in the ground. Another good option is to dig angled trenches. And it allows for a quick seal.
Lines are in high demand in commercial structures. So, installing low voltage power and control cables is becoming more advantageous and economical. And the use of low-voltage cables for video and audio equipment is increasingly used by many businesses.
Before installing cables in your facility, select the appropriate low voltage wire size for your needs. And we are the leading low-voltage cable company, please feel free to contact us.
Different Between PVC and XLPE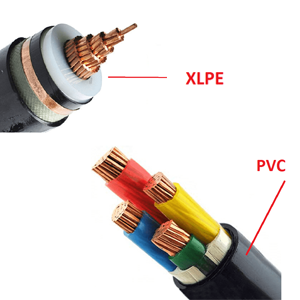 XLPE and PVC are often used as insulation materials for low-voltage cables.
Cross-linked polyethylene cables are called XLPE cables. In short, low-voltage XLPE cables are critical in industries where wire and cable are exposed to high-temperature conditions and liquid hazardous chemicals.
PVC insulated cables are commonly used in low-voltage lighting cables for household lamps and electrical installations. So PVC has excellent insulation resistance, good dielectric strength, and mechanical durability.
As a specialist low voltage power cable manufacturer, Veri Cable is a large-scale cable enterprise technology manufacturer. And it also includes development, manufacturing, sales, and service. Veri Cable, located in Zhengzhou for thirty years. And it has high quality international standard cables and testing equipment. What's more, it also has an experienced team. Then we mainly produce and sell hundreds of series of 35kV and below power cables. Such as wires and cables for electrical equipment, voltage cables, solar cables, mineral insulated cables, airport lighting cables, and so on. And our cable products are widely used in many national key projects of urban and rural power grid transformation, power transmission, and installation companies.
Veri company strictly refers to the international advanced management system. And it successively passes ISO systems, national industrial product production licenses, certifications, and other certificates.
ZMS Cables is committed to producing more the best high quality low voltage cables for indoor/outdoor uses, Low voltage single & multicore auto & marine cables. It also offers a wide range of low-voltage cables designed to meet the highest quality standards and applied for every application.