Veri Cable provides a comprehensive range of high-voltage cables, which includes XLPE underground insulated power cables and overhead power lines. Veri Cable is committed to becoming a world-class provider of voltage cables. Depending on the different international standards, our standard LV cables, MV cables, and high-voltage cables are designed for the primary distribution of power on networks.
As HV cable, it can be divided into aluminum high-voltage cables and copper high-voltage cables according to different materials. With the complex environmental conditions and special requirements in areas, the use of copper core cables is more reliable in terms of quality and safety. According to our construction, the selection of cable models should refer to the surrounding environment, the corresponding means of laying, and the performance of electrical equipment. 
Types of VERI High Voltage Cable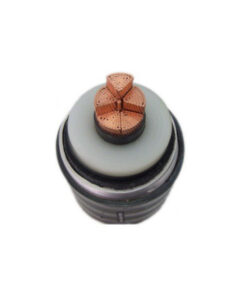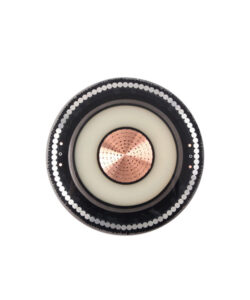 XLPE Insulated Armoured High Voltage Power Cables
The type of high-voltage power cable is designed for the distribution of electrical power with a nominal voltage of 35kv/220kv. They are suitable for installation mostly in power supply stations, indoors and in cable ducts, outdoors, underground, and in water as well as for installation on cable trays for industries, switchboards, and power stations.
Conductor: copper or aluminum
Conductor Screen: An extruded layer of semiconducting cross-linkable compound
over the conductor and shall cover the surface completely
Insulation: cross-linked polyethylene compound XLPE
Insulation Screen: semiconducting cross-linkable compound
Separation Sheath: Aluminum Tape sheath
Outer Sheath: PE
STANDARDS&REFERENCES:IEC 60840
As a type of high-voltage electrical wire, it's suitable for the primary distribution of power up to a maximum network voltage of 220kv, and the application of trunk transmission is relatively high. The conductors can be made of copper or aluminum, depending on the customer's preference or current carrying capacity. There are usually two kinds of armor layers for cables, steel tape armor and steel wire armor.
In order to protect the structural integrity and electrical performance of the cable and improve its service life of the cable, it is very necessary to add an armor layer to the outer sheath of the cable.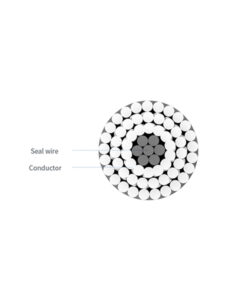 High Voltage Aluminium Conductor Steel Reinforced Cable
Aluminum conductor, steel reinforced overhead cable, is mainly used in power transmission lines with high voltage.
Its advantages include high mechanical strength, good electrical conductivity, corrosion resistance, light unit volume, easy erection, high-temperature resistance, simple structure, convenient installation, good maintenance, and large transmission capacity. The High-voltage steel cable of ACSR consists of a solid or stranded steel core surrounded by strands of aluminum.
Conductor: Aluminum
Street lighting conductor: Round-stood or compacted Aluminum conductor
Insulation: LDPE/HDPE/XLPE/PVC
STANDARDS&REFERENCES:GB/T12527/IEC60502/NFC 33-209/BS 7870/ANSI/ICEA S-76-474 AS/NZS 35601
The type of these cables uses in electricity distribution lines laying across rivers and valleys where special geographical creatures exist. The conductor of ACSR represents the most important component of an overhead power line because they have to ensure economical and reliable transmission and contribute considerably to the total line costs.
Laying of ZMS High Voltage Cables
Inspection before cable laying: whether the model and specifications meet the requirements, the insulation should be good, the appearance should be complete, and there should be no traces of trauma.
A spare length should be reserved near the cable terminal, and a spare length should be reserved for the directly buried cable in the wave-shaped laying.
The distance between each fulcrum of the cable shall be as specified in the design.
When there are no design regulations, it should not be greater than rubber cable and plastic cables are horizontal 1M, vertical 2M, and cables suspended on steel cables are horizontal 0.75M.
The bending radius of the cable should not be less than 10 times the outer diameter of the cable (armored or unarmored multicore plastic insulated power cable).
When laying the cables, the cables should be drawn out from the upper end of the reel, and avoid friction and drag of the cables on the bracket and the ground.
The cables should not be crossed when laying, they should be neatly arranged, fixed, and signs should be installed.
There should be firm stakes at the corners of the directly buried cables. When cables enter cable trenches, tunnels, buildings, and pipes, the entrances and exits should be closed.
Clamps and fixtures for AC single-core cables should not have a closed magnetic circuit composed of iron.
Transportation with Professional Service
Veri cable company supplies high-voltage cables with various constructions and voltage ratings. What's more, we support customized to your requirements. High-quality material at a low price for you. Please feel free to contact us.