Submarine fiber optic cable is also known as submarine communication cable. It is a wire wrapped in insulating material and laid on the ocean floor. Subsea fiber optic cable is the main artery that ensures that major regional networks around the world can interoperate with each other. Currently, more than 90% of the world's transnational data transmission is carried by submarine fiber optic cables.
Submarine Fiber Optic Cables Types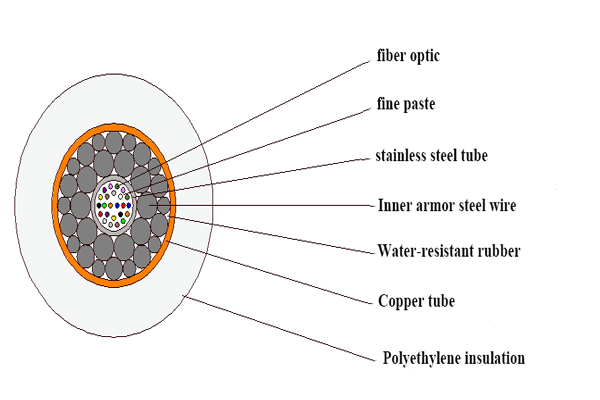 Submarine lightweight fiber optic cable(LW)
Submarine lightweight fiber optic cable suitable for 1000-8000m Water depth, good and stable sandy seabed. No armor protection, used when laying on the surface of the seabed, seabed conditions are relatively safe.
Submarine Lightweight Protective Fiber Optic Cable(LWP)
1000-8000m water depth, rough surface seabed, moderately abrasive, or possibly torn by marine animals. This type of fiber optic cable is based on the LW with the addition of a metal tape armored protective layer.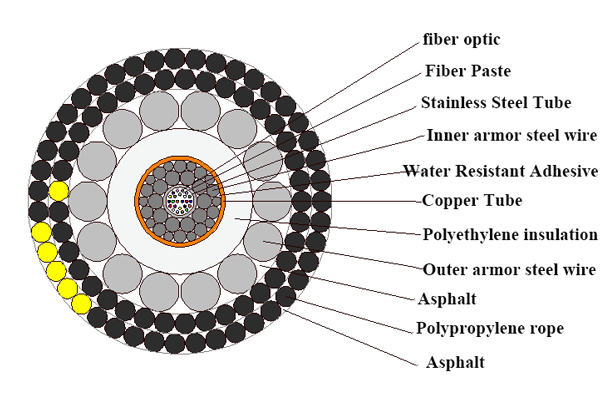 Submarine single layer armored fiber optic cable(SA)
20-1000m water depth, complex rocky terrain, high-risk Rocky terrain, and high-risk tugboat hazard areas. A single layer of diameter steel wire is added to LW as armoring to strengthen the protection of the submarine cable.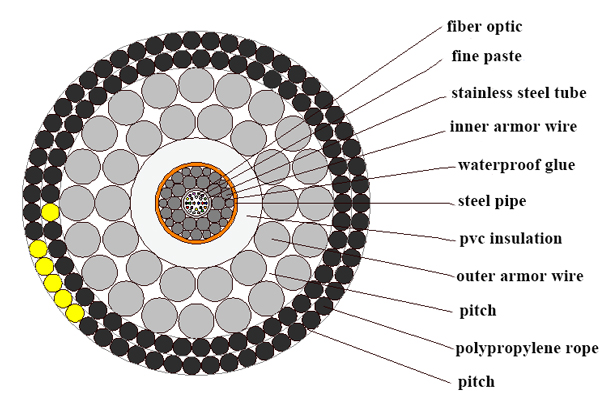 Submarine Double Armored Fiber Optic Cable(DA)
The fiber optic cable is suitable for shallow waters with rocky geology. At least two layers of thick steel wires of different diameters are added to the LW cables as armoring to strengthen the protection of the submarine cables.
ZMS submarine fiber optic cable characteristic synthesis ratio

parameters

unit

LW Model

Model LWP

Model SA

Model DA

weights

Air

Kg/m

0.79

1.1

3.06

6.42

/

Water

/

0.47

0.54

2.29

5.0

external diameter

mm

20

27

34

47

hydrodynamic constant

m/s

45

40

71

90

DC impedance at 3°C

Ω/km

0.7 (temperature coefficient: 0.4%°C)

capacitors

nF/km

170

Low-frequency decay (4~50Hz)

dB/km

a(/) = 0.0013 x f1/2
Advantages of Submarine Fiber Optic Cables
Higher data transfer speeds
Breaking away from the traditional transmission of electrical signals, it instead uses fiber optic transmission. It enables higher data transfer speeds and wider network coverage.
More reliable network connections
The use of submarine fiber optic cables can be an effective solution to network congestion. veri produces submarine fiber optic cables that are rigorously tested and audited to ensure the safety and stability of their data transmission process.
Information security is more fully protected
Since the main transmission method of submarine fiber optic cables is the use of optical fibers for data transmission, and since data can only be stolen through slight fiber optic vibrations, submarine fiber optic cables offer a higher level of privacy and security than other forms of network transmission. For specific marine area requirements, VERI can guide advanced technologies such as radar signal encryption and noise jamming technologies to further enhance submarine cable security.
In short, the various types of submarine fiber optic cables manufactured by veri have the advantages of being faster, more stable and safer than traditional networks. It is because of these advantages that submarine fiber optic cables have become the main means of global communication and exchange.
Prospects Of VERI Submarine Power Cables
All the products in the Veri submarine fiber optic cable line offer essential features such as superior mechanical reliability and industry-leading optical performance. Our submarine fiber optic insulation solutions provide finishing steps, offer coloring and splicing options, and develop lengths. Helping submarine fiber optic cable manufacturers reduce costs and footprint. Our finishing steps provide the reliability and performance required for harsh subsea environments. The complexity of the marine environment places high demands on submarine cable engineering, recognized worldwide as a difficult problem with high construction and maintenance costs. And only a few companies in the world can lay and commission submarine high-voltage cables.
The development of the submarine cable market has been greatly restricted. However, in the future, the application space of submarine cables will be broader, it is an important infrastructure equipment, and is an important technical support for human beings to realize the effective expansion of their field of activity.
Veri Submarine Cable Company firmly believes in this. Therefore, we strictly demand ourselves. VERI Submarine Cable operates with high-quality products and after-sales service, strong technical force, exquisite craftsmanship, advanced production equipment, complete testing means, and advanced enterprise management.
The submarine cable products produced by VERI Cable Factory include submarine power cables, submarine communication cables, submarine fiber optic cables, underwater cables, and marine Internet cables. The research and development of a variety of new products and independent judgment, considering the equipment, materials, production, conversion efficiency, quality, cost, and other comprehensive factors, need to grasp the appropriate production timing. For the mainstream technology direction, the company has reserved space for mass production and will launch differentiated products according to the characteristics of different markets.