LAN cables are a specific type of data cable used in computer networking. There are two different types of local area network cables. The first is a standard cable that connects a computer to a router or hub, and the second is called a crossover cable, connecting two computers together.
LAN CABLE NETWORKING CAT7
CONDUCTOR
* Raw material of the conductor: solid bare copper
* Conductor Dia.: 0.585±0.003mm (23AWG)
INSULATION
* Raw material of the conductor: F-PE
* Quantity:4 twisted pairs
Blue/white-blue; Green/white-green;
Orange/white-green;Brown/white-brown;
* Insulation Dia. : 1.45±0.005mm
* Average thickness: 0.4325 mm
Minimum point thickness: 0.43mm
TWISTED PAIRS SCREEN: Aluminum Foil
OVERALL SCREEN
* Raw material of the screen: 96/0.10mm TC wire braiding
* Coverage rate:≥40%
JACKET RIP CORD:Nylon thread
SHEATH
* Sheath material: LSZH or PVC
* Nominal Dia.: 7.5 ± 0.2mm
* Average thickness: 0.65mm
* Minimum point thickness: 0.55mm
PRODUCTION DESCRIPTION OF ZMS LAN CABLE
1. This kind of Veri cable electric use bare copper to be the center conduction with the specification is 23AWG and PE to be the dielectric.
The jacket is made of fireproof material, which is so meanful to the Cat.7 communication;
2. This Cat.7 S/FTP cable is conform to the SIO/IEC, TIA/EIA and EN standards and the electrical characteristics are exceed the
lastest Cat.7 standards;
3. LSZH Cable: means "Low smoke zero halogen", which is the symbol of environmental protection;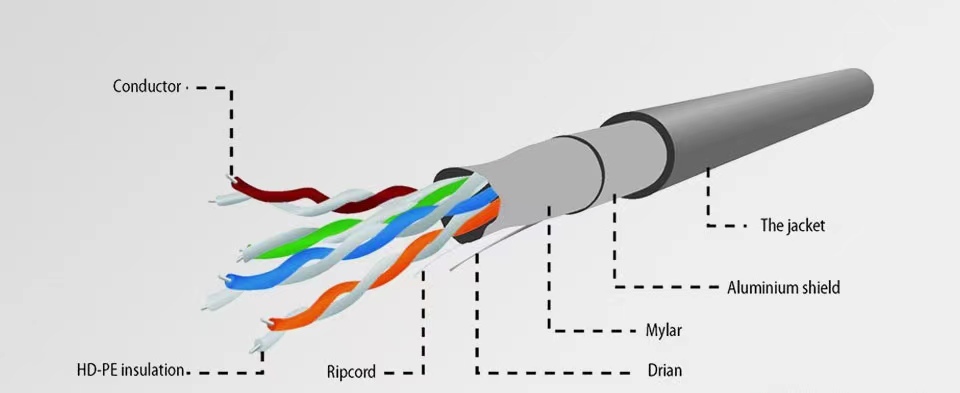 ELECTRICAL CHARACTERISTICS
1. Impedance: 100±15;
2. Static electric capacity: max:17.1nf/kf;
3. Resisitance: max:28.6/kf;
4. Unbalance resisitance: max 5%;
5. Unbalance capacity: max 330pF/100m;
6. Roted communicate rate: 65%
PHYSICAL CHARACTERISTICS
1. Copper diameter: 23AWG
2. Outer diameter: 7.9+/- 0.5mm
3. Weight: 10.5kg/kft
4. Minimum bend radius: O.D.*4-8
5. Maximum pulling tension: 10.0
6. Jacket material: PVC/LSZH
7. Roted temperature: -20~60°C
APPLICATION OF LAN CABLE:
VoIP
ISDN
Token
100M TP-PDM
Analog and Data Video
TR-16 Active and Passive
155M/622M/1.2GATM
IEEE 802.3: 10Base-T; 100Base-T; 1000Base-T; 10GBase-T
DESCRIPTION:
Rated temperature:60°C,75°C,90°C
Reference standard:UL444,UL1581
Solid bare copper conductor
PVC/LSZH jacket, RoHS/REACH compliant
Comply to TIA/EIA-568-C.2-10,IEC61156-5,
EN50173&IEC11801
Operating temperature:-30~+50°C
Minimum bending radius: 8D
Transportation with Professional Service
Veri Cable has multiple ways to protect your cables with sturdy and professional shipping packaging and comprehensive insurance. Before shipping, our cables are packaged in wooden reels, and corrugated box coils. During transportation, to protect the cable ends from moisture, we seal with BOPP self-adhesive tape and non-hygroscopic.
If there are quality problems such as damaged packaging and product surface damage on the spot when the goods are received, if the goods are confirmed to be true, the goods do not match the order, and the quality problems found by the customer during the installation, laying and use process are confirmed to be the quality problems of the product itself, If the delivery is not in accordance with the contract requirements, please contact our company directly.