Submarine cables are wires wrapped with insulating and waterproof materials and laid underwater on the seabed and rivers for power or communication transmission. The role of submarine cables is to provide communication and power transmission for offshore wind power, offshore drilling platforms, island grid interconnection, land island interconnection, and other offshore projects.
Veri submarine power cable company has studied the production of submarine cables for many years. Whether from submarine environment exploration, marine physical investigation, and the world's large projects' case study. We also apply sophisticated cable design, manufacturing, and installation methods. The excellent performance and service life of our submarine cables are guaranteed.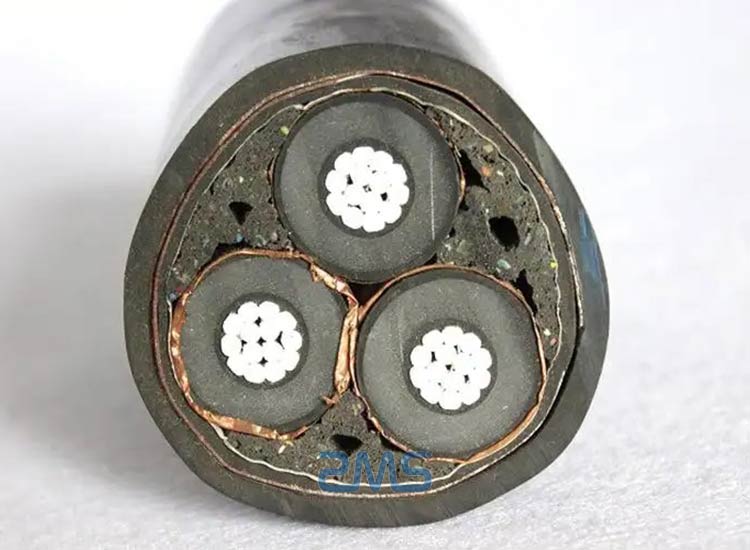 Types of Submarine Power Cables
Types of submarine cables can be categorized by structure:
Three-core submarine cables
single-core submarine cables
Most of the low- and medium-voltage lines use three-core submarine cables, and most of the high-voltage lines use single-core submarine cables.
Classified by load type
HVDC submarine cable.
HVAC submarine cable.
HVAC submarine cable is characterized by large losses, but the operation and maintenance technology is mature, supporting small construction costs.
HVDC submarine cable is characterized by small losses, and easy to achieve long-distance transmission of electricity. DC cable in the transmission capacity, loss, length, and stability performance is better than the AC cable. But the DC cable supporting the construction costs are high.
Therefore, designers of submarine cable lines usually have to make technical and economic trade-offs to choose the right type of cable. To achieve maximum benefits.
Submarine Cable Structure Types
In submarine cable development so far, the structure has been design to make a variety of exploration and experimentation, the main structure includes the following types:
Prospects Of Veri Submarine Cables
The complexity of the marine environment of the submarine cable project put forward high requirements, underwater cable engineering is a recognized problem in the world, construction difficulties, and high maintenance costs. And it was only a few companies in the world have the ability to lay and commission submarine high-voltage cables. The development of the submarine cable market has been greatly restricted. More issues, but more solutions to the problem. 
Significance of the Veri Submarine Cable
In the future, the application space of submarine cables will be broader, it is important infrastructure equipment and is an important technical support for human beings to achieve the effective expansion of their own activity area. It transports clean ocean energy to the mainland, relieves the tension of mainland resources, and also transports mainland energy to the ocean, contributing to the development of the ocean economy. Veri Submarine Cable company firmly believes in this.
Vericable strictly requires ourselves. Managed with high-quality products and after-sales service, Veri Cable has a strong technical force, exquisite technology, advanced production equipment, complete testing means, and advanced enterprise management.
Customizable cables from Vericable manufacturers
The submarine cable products produced by Veri cable factory include submarine power cables, submarine communication cables, submarine fiber optic cables, underwater cables, Internet cables in the ocean, and other products. A variety of new products have been researched and independently judged, taking into account the comprehensive factors of equipment, materials, yield, conversion efficiency, quality and cost, and the need to master the right timing for production. For the mainstream technology direction, the company has reserved for mass production and will launch differentiated products according to the characteristics of different markets.