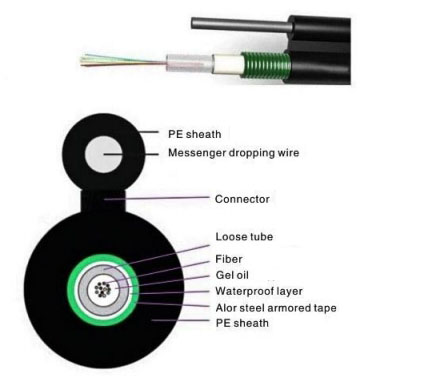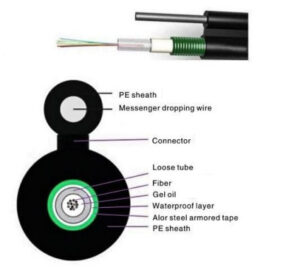 GYXTC8S Figure 8 Aerial Optical Cable (Central Tube Type)
The metal GYXTC8 optical cable is composed of multiple strands of steel wire, and the supporting part is completed by a polyethylene (PE) sheath, forming a figure-8 structure. Corrugated steel tape Armour and PE outer jacket provide crush and bullet resistance properties.
The steel wire reinforcement is used as the central reinforcement to improve the tensile strength, and the loose tube and the water blocking system are surrounded by the surrounding. Impact construction ensures excellent mechanical and environmental performance.
The central loose tube contains a colloidal compound that protects the cladding fiber.
 Corrugated steel tape, double-sided laminated plastic, bonded with PE sheath.
 Good mechanical properties and temperature resistance, compression resistance, and flexibility.
Because of its lightweight and small diameter, it is easy to install and operate.
Long distance and local area network (LAN) communications.

Overhead and conduit/pipe applications.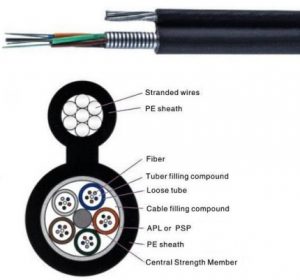 GYTC8S Figure 8 Aerial Optical Cable (Layer Stranded)
The structure of the GYTC8S optical cable is to put 250μm optical fiber into a loose tube made of high-modulus material, and the loose tube is filled with a waterproof compound. The center of the cable core is a metal reinforcing core (also non-metallic, such as FRP, etc.), and the loose tube (and filling rope) is twisted around the central reinforcing core to form a compact circular cable core. In the form of longitudinal wrapping, a layer of plastic-coated aluminum tape (APL) is added to the sheath outside the cable core, and finally, a polyethylene sheath is extruded together with the steel strand to make the cross-section "8" shaped.
The steel wire strand has extremely high tensile strength, so it is convenient for self-supporting overhead laying and can reduce the installation cost.
Has good mechanical properties and temperature characteristics.
The loose tube material itself has good water resistance and high strength.
The tube is filled with special ointment, which plays a key role in protecting the optical fiber.
The loose tube is filled with special waterproof glue.
The full section of the cable core is filled.
Double-sided plastic-coated steel tape (PSP) moisture-proof layer.
Long-distance communication, inter-office communication, CATV and computer network transmission system, etc.