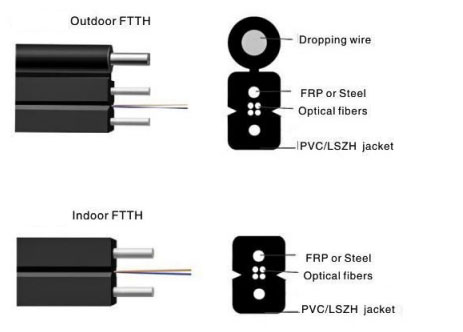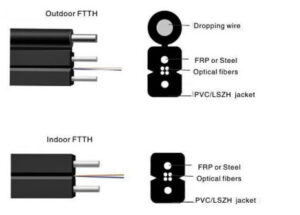 FTTH Indoor/Outdoor Optic Fiber Cable
Fiber To The Home (FTTH) is a transmission method of optical fiber communication. It is to directly connect the optical fiber to the user's home (where the user needs it).
In the optical access family, there are FTTB (Fiber To The Building) fiber to the building, FTTC (Fiber To The Curb) fiber to the curb, and FTTSA (Fiber To The Service Area) fiber to the service area and so on.
The optical fiber is directly connected to the user's home, and its bandwidth, wavelength and transmission technology are not limited.
It is suitable for introducing various new services. It is the most ideal business transparent network and the ultimate way of access network development.
1. Because it is a special bending-resistant fiber, it can provide greater bandwidth and enhance network transmission characteristics.
2. Two parallel glass fiber reinforced plastics or steel wires have good compression resistance and protect the optical fiber.
3. The optical cable has a simple structure, is lightweight and has strong practicability.
4. A single steel wire or steel strand is attached with a reinforcing element so that the optical cable has good tensile performance.
5. Unique groove design, easy to peel off, easy to connect, simplify installation and maintenance.
6. Low-smoke halogen-free flame retardant sheath, environmentally friendly.
Communications room
Telecom Broadband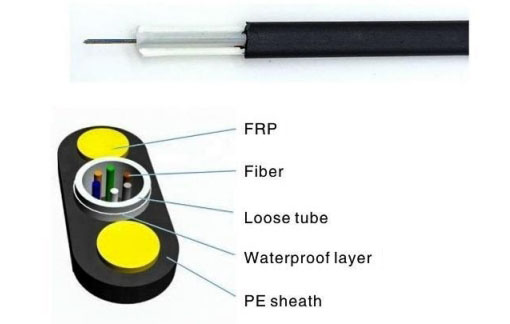 GYFXY Non-metallic Flat Leather Optic Cable
The structure of GYFXY optical cable is that 250µm optical fiber is sheathed in a loose tube made of high modulus material, and the loose tube is filled with a waterproof compound.
A water-blocking material is added to the loose tube to ensure the longitudinal water-blocking of the optical cable, and two parallel glass fiber reinforced plastics (FRP) are placed on both sides to extrude a polyethylene sheath into a cable.
Has good mechanical properties and temperature characteristics.
The loose tube material itself has good hydrolysis resistance and high strength.
The tube is filled with special ointment, which provides key protection for the optical fiber.
Two parallel FRP ensure the tensile strength of the cable.
PE sheath has good anti-ultraviolet radiation performance.
Small diameter, light weight, easy to lay.
Long delivery length.
Veri is a company specializing in the production and processing of optical fiber cables, indoor and outdoor optical cables, overhead cables, special cables, aerial fiber cables and other products. It has a complete and scientific quality management system.
A high-tech enterprise that manufactures and develops optical communication equipment. The products are widely used in telecommunications, mobile, China Unicom, radio and television, State Grid, military, railway, highway, rail transit, mining and other communication fields, and have won unanimous praise for the quality and service trusted by users.
The company's products comply with ITU, IEC, GB/T, YD/T and international and domestic quality standards in the industry, and effectively run ISO9001 international quality management system certification to ensure product quality is excellent, stable, continuous and traceable.
The company's products and technical teams are experts and production craftsmen who have been engaged in the optical fiber cable manufacturing industry for many years and have extensive cooperation with many domestic communication universities to carry out technical exchanges and joint research and development of products. If you have any needs, welcome to consult.