Veri Cable specialized in submarine power cable, is suitable for telecommunications or power transmission between countries or regions.
We manufactured high-quality submarine cables with different voltages.
In addition to our standard marine cable range, we support designing some special cables for specific project applications.
Veri Cable is a worldwide cable manufacturer, such as overhead electric cable, control cable, type of armored cables, and so on. 
Submarine power cables are mainly used for underwater transmission of high-power electrical energy. But the application occasions and laying methods are different.
And submarine power cables' laying distance is much shorter than communication cables.
Generally, for transmit electrical energy, the use of submarine cables are undoubtedly more expensive than overhead cables for the same length.
But it is often more economical than using small power stations for regional power generation.
And it has more benefits in offshore areas. For some countries with many islands and rivers, these cables are popular.
Veri submarine power cables are manufactured as VDE, IEC, and ICEA or according to customers' design and standards. For more information about our solutions for the cable products, please feel free to contact us.
Types of Veri Submarine Cable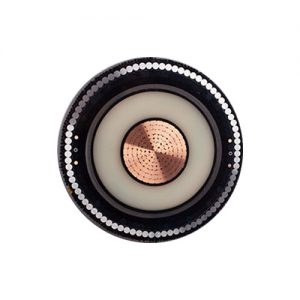 XLPE Insulated AC Medium Voltage Submarine Power Cable
These submarine power cables are used for power transmission to offshore islands, oil platforms, or cross-rivers and lakes.
But the laying of submarine cables does not require digging tunnels or supporting them with brackets, and low investment or fast construction.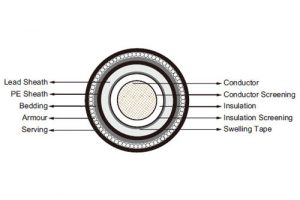 The core of the submarine power cable is covered with a PE outer sheath.
After the single steel armor, the cable is finally completed with an outer sheath.
So it is mainly for all marine environmental conditions,  such as muddy, dry, wet, or oily conditions meeting the requirements.
The range of voltage is 6/10(12)kV,12/20(24)kV, 18/30(36)kV, and so on.
STANDARDS&REFERENCES:IEC 60228,IEC 60502,IEC 60840, IEC 62067
Conductor: Copper conductor, circular stranded compacted, water blocked
Conductor Screening: Extruded semi-conductive compound
Insulation: XLPE
Insulation Screening: Extruded semi-conductive compound
Waterproof layer: semi-conductive waterproof tape
Screen: Copper tapes
Separator: Plastic foil
Core Sheath: PE
Fillers: Polypropylene filler
Separator: Binder tapes
Bedding Layer: Polypropylene strings
Armour: Galvanized steel wires
Serving: Hessian tapes, bituminous compound, polypropylene strings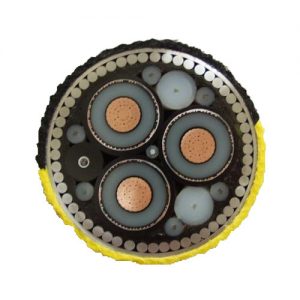 XLPE Insulated DC High-Voltage Submarine Cable
A high-voltage submarine cable is used for high-voltage power transmission.
Most of the submarine power cables are on the seabed at a certain depth, and they are not damaging the natural environment, such as wind and waves. Human production activities have interfered with them.
Therefore, the cables are safe and stable, with strong anti-interference ability and good confidentiality.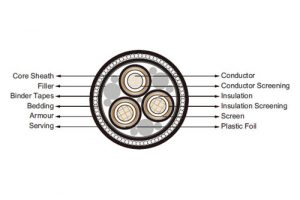 As a high-voltage power transmission cable, is major for carrying electric power below the surface of the water. The range of voltage is 127/220(245)kV, 160/275(300)kV, 200/345(362)kV, 230/400(420)kV, and so on.
STANDARDS&REFERENCES:IEC 60228, IEC 60502, IEC 60840, IEC 62067
Conductor: Copper conductor, water blocked
Conductor Screening: Extruded semi-conductive compound
Insulation: XLPE
Insulation Screening: Extruded semi-conductive compound.
Separator: Swelling tape
Core Sheath1: Lead Sheath
Core Sheath2: PE sheath
Bedding: Bedding layer
Armour: Galvanized steel wires filled with bitumen compound
Serving: Polypropylene yarn
Submarine Fiber Optic Cable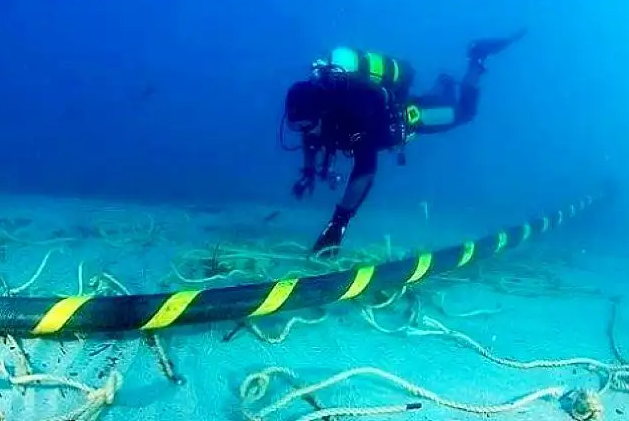 Submarine fiber optic cable is also known as submarine communication cable. It is a wire wrapped in insulating material and laid on the ocean floor. Subsea fiber optic cable is the main artery that ensures that major regional networks around the world can interoperate with each other.
GYTA33 can also be buried directly into the ground, and this cable is available in sizes from 12 cores to 72 cores.
APPLICATION
Submarine optical cable, also known as submarine communication cable, is a conductor wrapped with insulating materials and laid on the seabed to establish telecommunications transmission between countries.
STANDARDS&REFERENCES:
Product Scope: Subsea, shallow sea
Fiber Count: 12 24 36 48 72 core
. Precise control of the fiber length to ensure good tensile properties and temperature characteristics of the cable.
. Cross-linked polyethylene (XLPE) or polyethylene (PE) sheath with good resistance to UV radiation.
. Good compression resistance and flexibility.
. Loose sleeves filled with special waterproof compounds.
. Double-sided chrome-plated plastic coated steel strip (PSP) to improve the moisture permeability of the fiber optic cable.
. Good water barrier material to prevent longitudinal water penetration of the cable.
The Laying Method of Submarine Cables
Veri Cable submarine cable laying mainly includes three stages: cable routing survey and cleaning, submarine cable laying, and burial protection. When laying the cable, it is necessary to control the water entry angle. And the laying tension of the cable by controlling the sailing speed.
When laying in the shoal section, the cable-laying ship stops 4.5 kilometers at a distance from the coast. And the tractor was pulled on the shore. The submarine cable is allowed to sink by a floating bag. Underwater remote control vehicles continuously monitor, and adjust to control the forward. Then rocks to avoid damage to the submarine cable.
In the final stage of construction, the main purpose is to protect the submarine cables by deep burial. And reduce the impact of the complex marine environment. Veri cable company supply best quality cables with various constructions and voltage ratings. What's more, we support to customized as your requirements. High-quality material with low price for you. Please feel free to contact us.