Veri armored electrical cable is applied to transmit and distribute power in a power transmission and distribution system of 0.6kv~35kv or lower.
It is widely adopted in fields including power, construction, industry, mines, metallurgy, petrochemical industry, and communication in the complete replacement of oil immersed paper insulated power cables and in partial replacement of PVC insulation or XLPE power cable.
For laying indoors, in tunnels, in ducts. Able to bear external mechanical force, but not large pulling forces. Single-core cables are impermissible to be laid in magnetic ducts.
High product quality, wide production, and a flexible structure are the strong points of Veri Cable. Cable products such as overhead cables, rubber cables, armored control cable, submarine cables, power line insulators, etc.
The armored cable has a certain resistance to external force, and it can also prevent mice from biting, so as not to cause power transmission problems through the armor.
And the bending radius of the armor should be large, and the armor layer can be grounded to protect the cable.
 In addition to the above purpose, the purpose of adding an armor layer to the cable can also enhance mechanical protection such as tensile strength and compressive strength to prolong the service life.
PVC/XLPE Armored Electrical Cable with Low Voltage 0.6kv/1kv
Low voltage armored cable is used for electricity supply in low-voltage installation systems.
As well, they are suitable for installation indoors and outdoors, in cable ducts, underground, in power and switching stations, local energy distributions, and industrial plants, where there is no risk of mechanical damage.
More importantly, Veri Cables have professional teams and engineers, and we provide the best-armored cables for you.
Veri low-voltage armored electrical cables can withstand greater positive pressure. They are mainly used in 0.6/1kV power systems, are suitable for power transmission in various power transmission and distribution systems, and are often used for fixed laying in various power plants, substations, steel, petrochemicals, mines, subways, high-rise buildings, and so on.
STANDARDS&REFERENCES:IEC 60502, IEC 60228, (IEC 60332-3 for FR-type only)
Conductor: copper or aluminum
Insulation: XLPE
Armor: steel or aluminum armor
Sheath: PVC
Medium Voltage Armored Electrical Cable XLPE Power Cable Multi Core
Veri medium voltage cables for power networks, and also for connection to generation units and plant and process connection. And we manufactured many kinds of medium voltage cables, such as single-core power cables, two-core power cables, three-core power cables, etc. Good quality and competitive price will be your best choice. Also, Veri Cable is a leading cable factory and exporter, which is known as the land of power cable. We will offer you the best prices.
Veri medium voltage cables not only have excellent electrical properties, mechanical properties, heat aging resistance, environmental stress resistance, and chemical corrosion resistance, but also have a simple structure, are lightweight, are not limited by the laying drop, and have a high long-term working temperature (90 °C).
For installation in the ground, in water outdoors, indoors, and in cable ducts for power stations, industry, and distribution networks.
STANDARDS&REFERENCES: They meet the requirements of all international standards, such as ASTM, AS, BS, CSA, DIN, IEC, etc.
Conductor: Class 2 stranded copper or aluminum conductors for single-core and three-core cables
Insulation: XLPE (cross-linked polyethylene)
Insulation Screen: semi-conductive XLPE (cross-linked polyethylene)
Armour: single core—AWA (aluminum wire armored)
multicore—SWA (steel wire armored)
Sheath: PVC (Polyvinyl Chloride)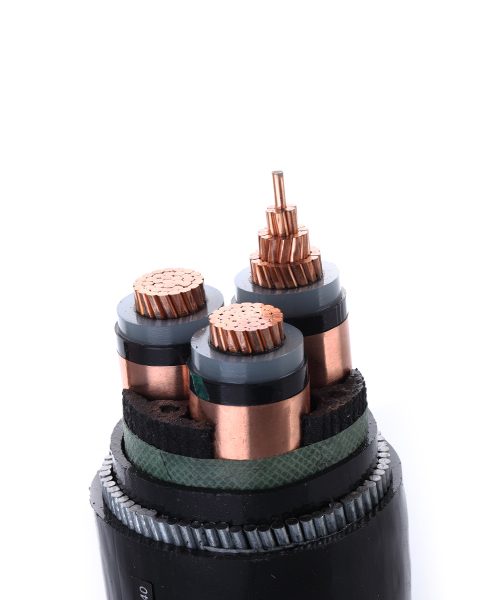 High Voltage Armored Electrical Cables XLPE Insulated
Here we can know that the components of the high-voltage armored electrical cable from the inside to the outside include conductor, insulation, inner sheath, armor, and outer insulation.
Of course, high-voltage cables are mainly used for burial, which can resist high-strength compression on the ground and prevent damage from other external forces.
High-voltage armored cables are suitable for indoor, tunnel, cable trench buried laying, etc.
And they can also withstand certain mechanical external forces, but cannot withstand large tensile forces.
The cables are provided as standard with a high-density polyethylene sheath, combining abrasion resistance and flexibility. Veri Cable support to customize the specific project demands as required.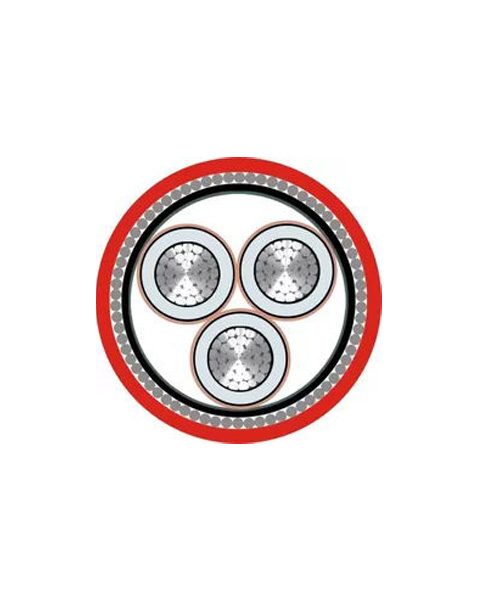 High-voltage armored cables are generally fixed-laying power cables. Generally speaking, they are fixed in one place and basically do not move.
Power lines transmit electrical energy. It is very suitable for direct burial and enables the direct burial of armored cables.
The High-voltage armored cables are suitable for the primary distribution of power up to an electrical network voltage of nominal voltage 76kv/132kv.
STANDARDS&REFERENCES:IEC 60840
Conductors: copper or aluminum
Insulation: Insulation is of cross-linked polyethylene compound XLPE
Outer Sheath: PE
Transportation with Professional Service
Veri Cable guarantee that it is qualified armored cables products, and has multiple ways to protect your cables, sturdy and professional shipping packaging, and comprehensive insurance. Before shipping, our cables are packaged in wooden reels and corrugated box coils.
During transportation, to protect the cable ends from moisture, we seal them with BOPP self-adhesive tape and non-hygroscopic. Of course, we will send you the pictures during production and packaging. And we will deliver each order strictly according to the delivery time to ensure the smooth progress of the customer's project.
We have established a complete service support system, properly responding to customer requests and efficiently handling customer problems through sales staff and technical support all over the world.
Our service team promises to respond within 24 hours, resolve customer service requests within 48 hours, and provide a 7×24-hour service hotline to respond to customer needs at any time.