The global fiber optic market has seen a significant increase in revenue due to the increase in global internet usage.
However, the fiber optic cable industry has experienced a downward cycle of nearly 3 years since reaching a cycling boom high in 2017.
This is mainly due to the abrupt decline in demand in 2018 and the concentrated launch of production capacity in 2018, with the industry entering a downward cycle under a supply-demand mismatch.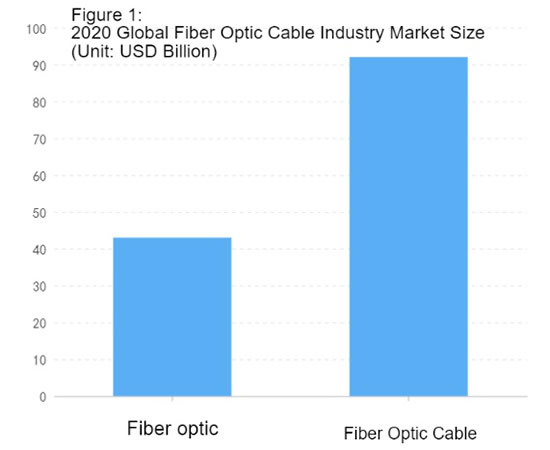 However, due to better reliability, speed, dependability, and transmission capabilities of optical fiber.
Digital data transmission over fiber optics became faster than copper wires, leading to increased use in the telecom sector. According to ZMS cable industry reference data, the global fiber optic market is valued at $4.54 billion in 2022.
Growing demand from FTTx and telecom sectors along with technological advancements are the major reasons for the growth of the fiber optic cable market.
Mordor Intelligence data shows that the global fiber optic cable market is valued at USD 9.24 billion in 2022.
Fiber optic cables can transmit signals over long distances and at high speeds without being affected by electromagnetic interference. As a result, they are widely used in numerous communication applications, such as digital communications.
In recent years, the demand for fiber optic cables has been increasing globally along with the increased communication traffic.
Tomorrow, demand will also gradually increase, especially in emerging countries such as the Middle East, Africa, India, Southeast Asia, and South America, as well as in developed countries such as the United States and Europe.
In response to this increase in demand, Furukawa Electric Industries will increase its efforts in global promotion.
In addition to establishing bases around the world, we will enhance the production capacity of our existing plants and aim to respond more quickly to customer needs.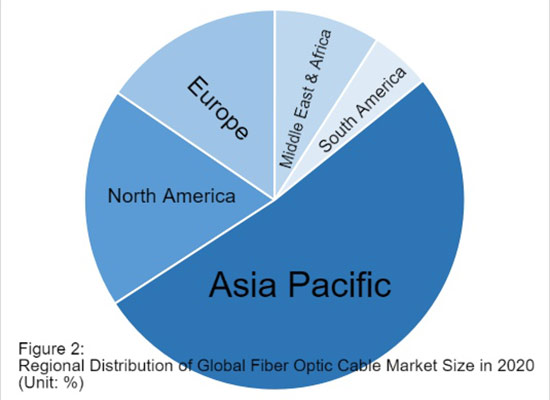 The Asia Pacific is a Major Market for Fiber Optic Cables
According to markets and markets and ZMS cable data analysis.
In 2022, the global optical fiber cable market size of the region of Asia-Pacific, North America, and Europe, accounted for 53%, 19%, and 14% in turn.
Among them, the major fiber optic markets in the Asia Pacific are China, Japan, India, Australia, and South Korea.
The region's growing industrialization and infrastructure development provide tremendous opportunities for the use of fiber optics in a variety of applications in the Asia Pacific.
North America also accounts for a larger share of the global fiber optic cable market due to the presence of key players such as Corning, Prosimian Group, AFL Telecom, Fitel, and LS Cable and Systems.
Meanwhile, rising telecom initiatives in the Middle East and Africa will drive the fiber optic cable market.
The US. FTTx Fiber Optic Cable Demand is fluctuating. The U.S. is one of the major fiber optic cable markets in the world.
According to Cowen Financial Analysts' November 2021 report, the number of fiber optic homes covered in the U.S. is about 50 million, of which telcos account for the majority.
Within five years, FTTH's share of the broadband market will soar from 14% to 26%, allowing the total addressable market to continue to expand.
According to data published by CRU related to the global demand for FTTx by region.
Demand for FTTx fiber optic cable in North America is on an upward trend from 2017-2019, with demand falling in 2020 due to the epidemic.
Preliminary statistics show that in 2021, FTTx fiber optic cable demand in North America rises to 2019 levels, reaching 28 MHz km.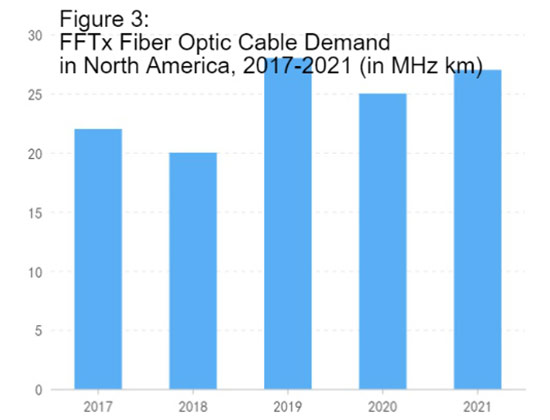 European FTTx Fiber Optic Cable Demand is Fluctuating
In Europe, FTTP, other VHCN, and other NGA technologies vary widely in coverage, with some countries and regions performing well.
Among them, Portugal, Spain, and Sweden have more full fiber coverage than Japan and South Korea.
There are also some countries and regions that perform poorly, with six countries and regions, including the UK, having FTTP coverage rates below 15%.
Five other countries and regions, even including the largest, Germany is below 10%.
Overall, Europe stands at 35.3 percent, slightly above the 30.1 percent in the United States, but significantly behind the benchmark forerunners.
According to data published by CRU related to the demand for FTTx by region worldwide.
Demand for FTTx fiber optic cable in Europe is on an upward trend from 2017-2019, with demand falling in 2020 due to the impact of the epidemic.
Preliminary statistics show that FTTx fiber optic cable demand in Europe rebounded to 41 MHz km in 2021.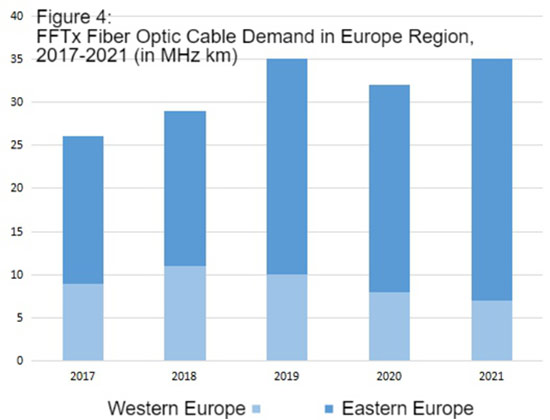 Japan Ftth Subscription is on an Upward Trend
Japan is more competitive in the submarine cable market.
Globally, the submarine cable market is almost monopolized by the traditional trio – NEC of Japan, Alcatel-Lucent of France, and SubCom of the US – for a long time.
They occupy 90% of the market share and have a solid market position.
In February 2020, Japan's Ministry of Internal Affairs and Communications finalized an overseas expansion action plan to provide financial assistance to Japanese submarine cable providers and investors to counter Chinese competitors.
A key factor behind the Japanese government's interest in supporting the country's submarine cable industry is concern about Chinese vendors' ambitions in overseas markets and their ability to take a hard line at the price level.
In addition, Japanese companies account for the vast majority of profits in the fiber-optic chain due to their strong technological leadership in the field of fiber-optic pre-fabricated rods.
FTTH was introduced to the Japanese market in 1999 to provide high bandwidth and high-speed Internet access at a lower price.
After sustained growth in recent years, Japan has 35.02 million FTTH subscriptions as of March 2021.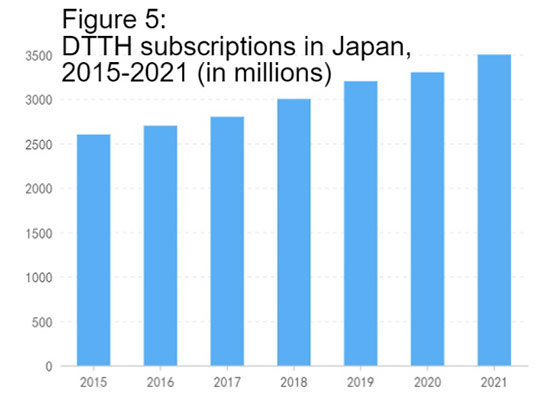 Global Fiber Optic Cable Market Worth $23.857 Billion in 2027
Driven by increasing demand for IoT and cloud services and higher utilization of fiber-based Internet connections. Enterprises are transitioning from traditional wired internet lines to fiber connectivity, which is expected to drive the market's revenue growth shortly.
According to PR Newswire, the global fiber optic market is estimated to be worth $5.46 billion in 2022, rising to a market value of $8.69 billion by 2027.
Rapidly growing demand for high-quality video, audio, and data transmission, growing use of 5G technology, growing demand for internet, and increasing demand for FTTx.
These have emerged as positive growth drivers for the growth of the fiber optic cable market.
However, the presence of wireless communication systems and high initial procurement and installation costs are the major restraints to the growth of the fiber optic cable market.
According to Mordor Intelligence, the global fiber optic cable market is estimated to be worth $12,111 million in 2022, rising to a market value of $23,857 million by 2027.
The current fiber optic cable industry may have entered a new upward cycle.
On the demand side, domestic and overseas information infrastructure construction are jointly driving demand recovery.
According to China Mobile's 2021-2022 common fiber optic cable collection bidding announcement, the estimated size of common fiber optic cable to be collected is 4,470,500 skin length kilometers, equivalent to 143.2 million core kilometers.
This is a 20% increase compared to 2020 and a 36% increase compared to 2019.
On the supply side, the growth rate of optical rod and fiber optic cable production is slowing down, and the leading concentration effect is gradually becoming significant.
In this context, the fiber optic cable market supply and demand will tend to tighten the balance and pull the price recovery, the industry may enter a new boom cycle.