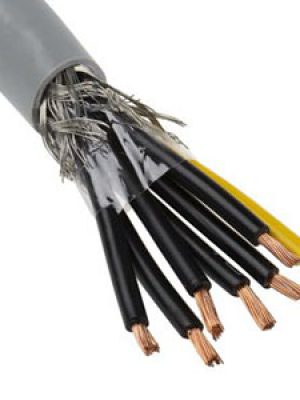 Veri Cable has more than thirty years of experience in manufacturing flexible control cables. We can offer a lot of control cables for you. Including shielded flexible control cable, unshielded flexible control cable, instrument cable. Shielded control cables with one or more insulated conductors. Usually, it has a common conductive layer. Braided strands of copper、aluminum or another metal shielding for shielding control wires. It could also be a non-woven helical wrap of copper tape or a layer of conductive polymer.
Meanwhile, we promise the quality. Whatever you want about cable products, we can satisfy you! Please feel free to contact us at once.
Types of Veri Flexible Control Cable
Flexible Control Cable with Screen
The use of shielded control cables in security systems provides some protection against power frequency and radio frequency interference.
Shielded drain wires can reduce the number of false alarms generated. It can be widely used in areas where heavy equipment is located, such as production or factory floors.
STANDARDS&REFERENCES:IEC502, IEC332-3
Conductor: flexible copper wire
Insulation: PVC
Identification:different insulation color or Printed White number on the surface of Black insulation
Filler: Suitable filler
Binding tape: polyester tape
Inner sheath: PVC
Shield: copper wire braided
Outher Sheath: PVC
Unshielded Flexible Control Cable
The unshielded flexible control cable can work well under mild mechanical stress and are suitable for most environments. It is a general-purpose cable.
These unshielded flexible control cables are twisted by ordinary electrolytic thin copper wires with PVC insulation.
These unshielded control cables are flexible enough to be installed outdoors as well as indoors in dry or wet conditions such as engineering, factory installation, automotive production, and bottling plants.
STANDARDS&REFERENCES:IEC502, IEC332-3
Conductor: Flexbile copper / Tinned copper conductor
Insulation: PVC
Sheath: PVC
Sheath Color: Black or Gray (Bespoke cable)
Single core: 20D ± 0.05, multi-core: 15D ±0.05
Temperature Rating: 0℃ to 90℃
Transportation with Professional Service
Veri cable group has multiple ways to protect your cables sturdy and professional shipping packaging comprehensive insurance. Before shipping, our cables are packaged in wooden reels, corrugated boxes coils. During transportation, to protect the cable ends from moisture, we seal with BOPP self-adhesive tape and non-hygroscopic. Of course, we will send you the pictures during production and packaging. And we will deliver each order strictly according to the delivery time to ensure the smooth progress of the customer's project. With thirty's years experience in cable products, such as  ACSR cable, ABC cable, coaxial cable, fiber cable, and submarine power cable, we can provide best quality and competitive price for you. Welcome to contact us in your free time.